Gegetech Consultants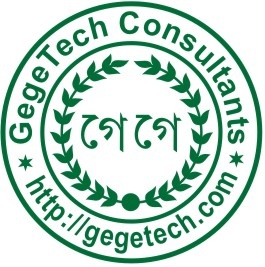 ---
Welcome to Gegetech SEO Services
Unmatched SEO Services with great results and the best ever customer support
Please note that we are currectly not accepting orders from new clients. Communications/work with/for all existing clients are being run over email at the moment.

If you are a new client looking to sign up with Gegetech SEO services, please drop us an email at seo AT gegetech DOT com to check whether we can avail what you are looking for. We shall reply to your email within 48 working hours, but probably sooner. Thanks for understanding.


---
---
---
---

Gegetech is happy to have launched Search Engine Optimization (SEO) Services to serve its clients better. After running SEO and related backlink building services on a number of Internet forums such as Warrior Forum, we realized that the best long-term road is to make our services available also on our portal. The driving reason behind this is that there are too many "real" people like you in the real world who would require SEO services more than anyone else. So we have opened up our services to all the serious business owners of this world rather than restricting it to purely online information seekers and sellers.

The impact so far has been one that has received a great response. Interestingly, our SEO services have found a lot of repeated customers rather than a lot of beginners. A reason for this, as we figured, is that as more and more business owners try to rank better on the search engines locally, the more and more they rely upon "world-famous local experts" for ranking, if you know what we mean by this. And more often than not, there are exactly two kinds of experts we keep encountering all the time.

One class of "experts" significantly over-price their services, but end up delivering too little value and quality in spite of absurdly high price tags. There guys are tier-kickers with no idea what SEO means. Some of them spam the world with your URL so badly that there are times when we can't help but wonder that they do not land up into serious troubles. Most "experts" fall into this category.

The other class of "experts" are more reasonable and do deliver what they promise, but again at a price tag too high. Do you know how they run their SEO campaigns? They simply outsource their SEO activities to the real experts behind the scenes that run the actual optimization service and result in more improved search engin rankings. So these "experts" do know what to do (some know it well and most know to a limited extent but there is no denying to the fact that they do see some or much of the picture) – but they jack up the prices of the services and earn commissions as SEO professional middlemen. And just in case you didn't realize, it is you whose money has gone to this middlemen. So you are getting only partial value for your money.

Do you see what made us start running the SEO services? After delivering page-1 rankings and improved rankings across search engines like Google.com over and over again for clients across all kinds of (ethical) niches and keywords and competitions, we thought let's start working for clients directly. That way, we gain by getting direct client mindshare and our clients (like you) gain by getting way better SEO services than the average service you would find from your "world-famous local expert".

Makes sense?

If you are a business owner looking to rank well within your town or city then you shall not need anything more than our SEO services. If you are an online marketer competing for super-competitive terms then also we have proven solutions for you. We offer both off-page and on-page optimization services, which in turn minimzes the investment requirements and maximizes the speed of ranking success at your end.

To get started, please write to seo AT gegetech DOT com. Please share your website and target keywords in the email so that we can start looking at them.

Please note that we are extremely serious about this business. We don't want to put a all-works-for-one price line and then fail with that, which is most often the case in the SEO industry. We want to exchange our thoughts with you before we commit anything. Hence, there no payment button on this page looking for an impulse purchase from a customer. If you are not sure, please think ten times over before you decide to go ahead with us. We are serious and sincere.

We don't work for peanuts, and we don't believe in producing monkeys.

Our job is to help you improve the quality of your website in terms of its internal structure, help you build links in an agreed-upon manner (white hats), and improve your social presence. At the same time, we shall work closely with you in improving your domain trust. This is the full gamut of services that will cover the expectations of a search engine from a good, informative website.

We shall take your hand and walk you through it.

Each website requires different amounts of effort to rank so we do not quote upfront prices. Also, depending upon the agreement, we are open to work only in part of your overall SEO effort rather than driving it end-to-end. You get to choose. So, please start by writing us an email: seo AT gegetech DOT com.

We have a lot of client testimonials from places that you can verify publicly. But I am not going to write them here - please write to us if you are serious and then we shall explicitly show you some of the testimonials on public forums by a number of users - so you will find it easy to see that we are genuine, credible and loved by our customers.

Our repeat customer volume is astoundingly high. Over 60% of our customers are long-term repeat customers. Anyone is the SEO services business ought to set their benchmark by the percentage of repeat customers (apply your common sense and you will know why), and we have an excellent profile of repeat customers. That's great. We hope to have you as a repeat customer also should you choose to do business with us and have more than one webpage for doing SEO. Even if you have just one website, surely there are multiple inner pages that you would want to rank for on search engines like Google?

Try us. Try our SEO services today. You are going to love it more than any other similar service regarding SEO that you have taken before. We promise it. Sudeshna, our CEO, personally promises it.